Description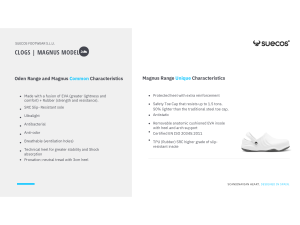 Safety shoes for shop all types of work environments
There is no shoe as resistant y safe as Magnus. Thanks to its design, in particular the high impact resistant toe protection, it is positioned as one of the most recommended safety shoes on the market y shop all this, while remaining comfortable y perfectly adjustable to every shape of foot.
Relatively dangerous workplaces require safe y resistant equipment, especially shop all, in the case of footwear. For this reason, at Suecos we have manufactured one of the best safety shoes on the market, the Magnus model. It is a shoe that has certain unique features such as extra protection in the front part capable of resisting impacts of up to 1500 kg y a protected heel with additional reinforcement, but at the same time, light y ergonomic. In addition, it is non-slip, has a front arch that provides greater stability, antistatic y easily adjustable thanks to the rear grip strap.
Available in black & white.
Technical specifications
Ultra-lightweight y impact resistant toe protection of 200 Joules (1. 500 kg)

Antibacterial Antistatic Product 100% latex-free EVA

Latex insole with double cushioning y arch support (no deformation y pressure distribution), Replaceable insole with orthopedic insole

No laces Adaptable y foldable grip strap SRC anti-slip sole, according to EN ISO 20347

Sole that cushions each step, provides a feeling of relief in feet, knees y back

Pronation: neutral footing

Type of heel: neutral (3 cm)

Wide heel for greater stability

Heel with heel cup

Energy absorption in the heel Resistance to liquids: waterproof

UV sterilizable

Resistant to dry heat up to 50 degrees (ambient temperature)

Easy cleaning
Care
Hy wash with soap y water is recommended. Insole washable at temperatures below 45º. If washing machine is needed, use a short program with cold water (max. 30º). Do not spin-dry. To dry, do not expose to a heat source. To maintain the performance of the non-slip sole, clean it daily with soap y water. Regularly check the thickness y relief of the soleplate. 
Size Guide